Owen Hawk

Fan Page

Also known as: Owen Hawke

Owen Hawk is a poz bareback versatile top who's done 49 porn scenes and had sex with with 64 different people on video (that we know of).
Twitter Handle: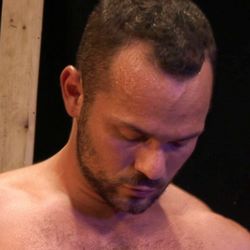 Stats/Details:
These stats are based on the data we have available to us. Our database is constantly growing, so in most cases these numbers are underestimates – the real numbers are higher.
Sites:

Dark Alley XT

(5 scenes),

Raw Fuck Club

(42 scenes),

Dark Alley Dark Room

(1 scene),

Raw Fuck Club

(1 scene)
Scenes: 49

20 known anal scenes

Total top 17 times (85%)
Total bottom 2 times (10%)
Versatile 1 time (5%)
100% of his fuck scenes were bareback

1 known piss/watersports scene
1 known BDSM scene

Has Had Sex With 64 People:

Fred Mayer

,

Mason Wyler

,

Dominik Rider

,

Austin Shadow

,

Danny Fox

,

Champ Robinson

,

Danny Lopez

,

Jay Phoenix

,

Dmitri Santiago

,

Joshua Chandler

,

Tim Rusty

,

Jessy Karson

,

Jessie Balboa

,

Matthias von Fistenberg

,

Michael Hengst

,

Brandon Hawk

,

Jim Ferro

,

Chad Brock

,

Adam King

,

Justin Case

,

Jarod Steel

,

Jeremy Rockwood

,

Diego Catalan

,

Kane Rider

,

Tate Ryder

,

Ethan Wolfe

,

Blue Bailey

,

Kyle Braun

,

Randy Harden

,

Dylan Hyde

,

Patrick O'Connor

,

Jesse Balboa

,

Caleb Ramble

,

Rafael Carreras

,

William West

,

Jay Hernandez

,

Armond Rizzo

,

Dayton O'Connor

,

Kannon

,

Chris Tyler

,

Aaron Summer

,

Adam Burr

,

Hardcore

,

Aaron Summers

,

Violator

,

Cam Christou

,

Shawn Andrews

,

Dark Alley Fan

,

RJ (Dark Alley)

,

Kurtis Wolfe

,

Ty (Dark Alley)

,

Tattoo

,

Lord Krshna

,

Violator (Dark Alley)

,

Sebastian Cruz

,

Brock Webster

,

Alex Skye

,

Felipe Carson

,

EcksMenXXX (Dark Alley)

,

Zario Travezz

,

Drew Dixon

,

TY (rawTOP.tv)

,

Nigel March

,

Derek Cline



Bottoming Stats:
Topping Stats:

Has fucked 19 people:

Aaron Summer

,

Armond Rizzo

,

Blue Bailey

,

Brandon Hawk

,

Caleb Ramble

,

Diego Catalan

,

Dylan Hyde

,

EcksMenXXX (Dark Alley)

,

Ethan Wolfe

,

Fred Mayer

,

Jarod Steel

,

Jay Phoenix

,

Jessy Karson

,

Kane Rider

,

Mason Wyler

,

Patrick O'Connor

,

Tate Ryder

,

Ty (Dark Alley)

,

William West

He's barebacked 100% of the people he's fucked
Confirmed Loads Given: 8
8 different people have gotten his poz load in their ass:

Aaron Summer

,

Armond Rizzo

,

Brandon Hawk

,

Caleb Ramble

,

Diego Catalan

,

Dylan Hyde

,

Patrick O'Connor

,

Tate Ryder

Has been the dom in 1 BDSM video
News & Interviews for Owen Hawk