About #BBBH
The #BBBH is a community of gay men built on the exchange of cum. It's an organic community that first got it's name in 2010, but has been in existence since men first started fucking. If you love cumming inside another guy's ass, or you love getting cum up your hole, then you're already a member of the brotherhood. Straight men who just need a hole to fuck are always welcome. #BBBH is about giving & taking loads, not about who you have a relationship with.
#BBBH Sponsoring NYC Pride Dance & Sex Parties
We're pleased to announce that #BBBH is sponsoring the SeXXXy MF dance party Sunday, June 28th – over Pride Weekend here in NYC, and then the sex party immediately following the dance party. The parties are being organized by Cade who runs the NYC CumUnion, Milk Chocolate, etc. parties here in NYC. The main sponsor is GayHotMovies.com so there will be porn giveaways and plenty of porn stars in attendance. Between Cade's crowd, the #BBBH crowd, and the porn crowd it should be a really sexually-charged night!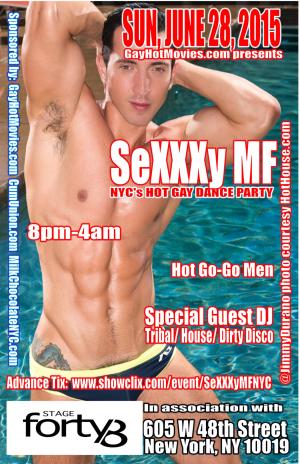 Buy your tickets now and you'll get 6 free sex parties and a #BBBH t-shirt!
Plans For This Site
This site is currently under development. When complete it will be part of a network of a mobile-friendly, geo-aware hookup sites. A few people will be given access during the alpha/development period, but early registration won't be open to the public until there is a core set of features for users to try out. For more info on the progress of development, check out the #BBBH Facebook page.
#BBBH Sites:
This site may not be ready, but you can go to one of these other sites to find what you're looking for:
A discussion forum centered around bareback sex:


Bareback Porn site with all the top producers and inexpensive monthly or per-minute plans:


Declare Your Dedication To Barebacking
Wanna let other barebackers know you like it raw without spelling it out completely for random strangers? Tattoo the #BBBH logo just above your asscrack as a "tramp stamp" and other barebackers will know exactly what you're into. (Much like Italo Gang has 'SEX' tattooed on his lower back).

(Clicking the graphic above will download the resizable vector image file that your tattoo artist will need when they tattoo you.)
Anyone who has #BBBH tattooed on them gets a free premium membership to all the S3XConnect sites for life.