Ray Dalton

Fan Page

Also known as: Ray Dawson

Ray Dalton is a bareback versatile porn star who's done 38 porn scenes and had sex with with 64 different people on video (that we know of).
Twitter Handle: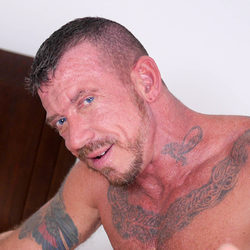 Stats/Details:
These stats are based on the data we have available to us. Our database is constantly growing, so in most cases these numbers are underestimates – the real numbers are higher.
Sites:

Breed Me Raw

(2 scenes),

Raw Joxxx

(1 scene),

Making Gay Porn

(1 scene),

Victor Cody XXX

(1 scene),

Bareback That Hole

(1 scene),

Raw Fuck Club

(6 scenes),

Dudes Raw

(1 scene),

Raw Fuck Club

(1 scene),

Raw & Rough

(23 scenes),

Hot Barebacking

(2 scenes)
Scenes: 38

21 known anal scenes

Total top 16 times (76%)
Total bottom 5 times (24%)
100% of his fuck scenes were bareback

6 known fisting scenes
15 known piss/watersports scenes

Has Had Sex With 64 People:

Kamrun

,

Vic Rocco

,

RJ Parker

,

Matt Sizemore

,

Sage Daniels

,

Jayson Park

,

Nick Roberts

,

Saxon West

,

Miguel Temon

,

James Aaron

,

Jim Ferro

,

Chad Brock

,

Boy Fillmore

,

Adam Faust

,

Blake Daniels

,

Blue Bailey

,

Kyle Braun

,

Mason Garet

,

Mason Garret

,

Patrick O'Connor

,

Nick Andrews

,

Dane Caroggio

,

Blake Ericson

,

Tyson James

,

Matt Stevens

,

Shay Michaels

,

Brian Bonds

,

Drew Sumrok

,

Rick Romo

,

Lex Antoine

,

Gio Ryder

,

Christian Matthews

,

Dolf Dietrich

,

Victor Cody

,

Deviant Otter

,

Cutler X

,

Lukas Cipriani

,

Cam Christou

,

Chandler Scott

,

Seth Fisher

,

Aarin Asker

,

Vincent Knight

,

Steve Sommers

,

Scott DeMarco

,

Dek Reckless

,

Travis Woods

,

Scott Pierson

,

Jay Ricci

,

Donny Ray

,

Michael Roman

,

Jace Chambers

,

Jack Andy

,

Mason Lear

,

Lucas Cipriani

,

Cy Cohen

,

Cylus Kohen

,

Jake Campbell

,

Jack Dixon

,

Colton Suede

,

Cesar Xes

,

Hudson Chase

,

Sebastian Velmont

,

Sean Harding

,

Bentley Michael



Bottoming Stats:

Has been fucked by 9 guys:

Blake Ericson

,

Chad Brock

,

Cutler X

,

Kamrun

,

Lex Antoine

,

Lukas Cipriani

,

Nick Roberts

,

Patrick O'Connor

,

Shay Michaels

He's been barebacked by 100% of the guys who've fucked him
Confirmed Loads Taken: 8
8 different guys have cum in his ass:

Blake Ericson

,

Chad Brock

,

Cutler X

,

Lex Antoine

,

Lukas Cipriani

,

Nick Roberts

,

Patrick O'Connor

,

Shay Michaels

Has been a piss bottom in 2 videos

Topping Stats:

Has fucked 10 people:

Blue Bailey

,

Chad Brock

,

Christian Matthews

,

Dane Caroggio

,

Mason Garet

,

Michael Roman

,

Patrick O'Connor

,

Scott Pierson

,

Seth Fisher

,

Vincent Knight

He's barebacked 100% of the people he's fucked
Confirmed Loads Given: 7
6 different people have gotten his load in their ass:

,

Chad Brock

,

Christian Matthews

,

Dane Caroggio

,

Mason Garet

,

Scott Pierson

,

Vincent Knight

Has been a piss top in 2 videos