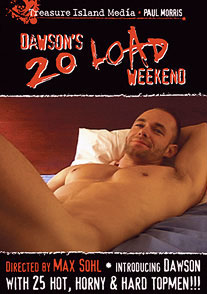 I've been asked "What was it like to fuck Dawson in 'Dawson's 20 Load Weekend'?" more times than I care to remember... So, since my sex life is sorta calm right now (since I have a cold and a foot surgeon did a number on my foot the other night), let me just tell the story once and for all...
It started in 2000 - 4 years before I fucked Dawson... My sex life sucked and I needed to fuck really badly and was sneaking around behind my bf's back. This guy wanted me to fuck him and he was a few blocks off the subway line that I used to get to work. So we hooked up. I suggested and he aggreed to an anonymous pump-and-dump. Back then people didn't advertise they were looking for pump-and-dump encounters like they do now, so it was a bit edgy. I guess it's still pretty edgy to take a stranger's load in your ass without any conversation - but it was even more so back then. The whole hookup took 13 minutes - from the time I rang the bell to his apartment to the time I was leaving his building, and that included the time to take off my clothes and put them back on (something I realized that day was completely unnecessary - just leave them on). We talked about hooking up again, but never did. I wanted to do a little bondage on him and that freaked him out...
Over the years I watched his online profiles - I could tell they were his 'cause he'd always use at least one pic I had seen before. We chatted a bit early in 2001, but that was about it - at that point he was still neg and had gone back to safe sex, though he was willing to bareback with me if I wanted it.
Then one day in late 2003 or early 2004 I noticed he posted something with one of his profiles saying he was setting up a gangbang. I contacted him 'cause that was a huge step for him. He said he was now working for Treasure Island Media and had a phenomenal bottom who wanted to get gangbanged Black Party weekend. But he was having a hard time finding tops 'cause it was his first video, he didn't have an established list of tops to call on, and he had to find more than 20 raw tops since Dawson said he would only do the video if he got at least 20 loads. When Max interviewed guys he found that even "versatile tops" were more bottoms than tops, so he was a little desperate to find tops and wanted me to be one of them.
He sent me the pics of Dawson and I fell in love - yeah, the body pics were nice and all, but the one that made me fall in love was a simple one of him sitting a chair with a baseball cap on looking like some mother's favorite son (see below). It was so unremarkable, yet despite the fact that he looked like someone you could take home to your mother, I knew behind that face was a total cumslut and that turned me on in a huge way. The other thing was that he forgot to rename one of the pics, so I put two and two together and figured out Dawson's real name (not that I'm going to tell)...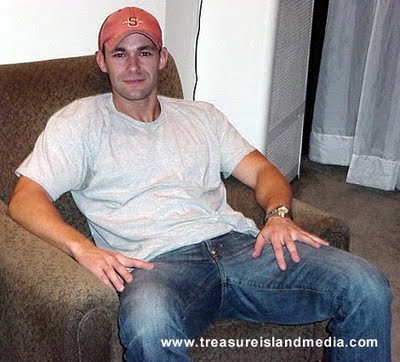 All of this came at a rough time in my relationship with my bf - I was sick of having no sex life and was determined to break up with him, but he was going through a rough patch and I didn't want to kick him while he was down... So I was fucking guys (bb) on the side... And while I was trying to stay away from poz guys, I was more than willing to make an exception for Dawson. I knew the video was going to be big - it was the first time a really hot guy was going to take load after load after load...
At the same time I didn't want to be publically associated with a bareback gangbang video - to say the least, it's not something my friends would expect of me. So I told Max I wanted to stay clothed and wear a mask. He had a soft spot for me 'cause I was his first anonymous pump-and-dump (and now he's doing videos about anonymous pump-and-dumps), so he said it was fine. I contacted David Menkes and had him make a custom executioner's hood for me. (BTW, for those of you who are stalkers, there's an old face pic of me somewhere on David's site...) David had made some custom leather stuff for me in the past. Basically, what I've found is that custom leather costs about the same as high-quality store leather only it looks and fits a lot better (and David Menkes is one of the best)... The hood cost about what I was going to make from the shoot, but that was fine with me...
The day came and I scheduled it with Max so I'd fuck Dawson on my way home from work. I left a little early from work, and stopped along the West Side Highway and changed into jeans, parked and walked over to the hotel. When I got there there were more guys than I expected hanging around. They had a suite - the first room was a living room, and then there was the bedroom with a bathroom. They asked whether I wanted to meet Dawson before I fucked him and I said no. They asked how I wanted him and I told them... And of course, they had me sign all sorts of forms and copied the driver's license and passport I gave them.
I go into the room and there's Dawson - this big huge piece of beautiful meat. I was really looking forward to tasting the 5 loads he had in him, and I tried and tried to get them out, but couldn't taste any cum. That was probably the worst thing about the fuck - I can't tell you how much I wanted to felch some cum out, but it didn't happen.
All in all I was really nervous - incredibly nervous actually. My track record with being able to cum was hit and miss and the last thing I wanted to do was not be able to cum. I hadn't cum in three days 'cause I wanted there to be a lot of thick cum when I did cum, but I was worried I'd get performance anxiety with all the lights and people around. So, I just concentrated on Dawson's hole - and fucked and fucked and fucked until I came. One reviewer (who I can't find now), said my performance was boring - and I see where he could feel that way. I was in a groove and just concentrating, but at the same time so nervous that once I was in that groove I was scared to change things up for fear that I'd get out of my groove and couldn't get back into it... On the other hand, some guys (like Max) loved how I fucked. Max called me The Energizer Bunny (a reference those you outside the U.S. might not get - he's a bunny powered by a particular brand of battery that keeps going on and on). Max did say that when he asked Dawson who his favorite tops were from the weekend, he named me as one of his three favorites... So despite my nervousness, I couldn't have been all that bad.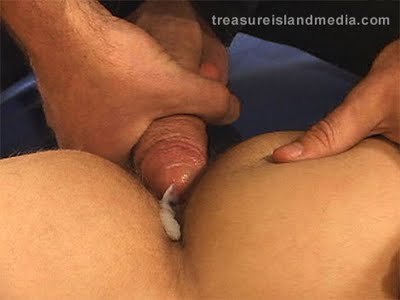 The cum shot was something Max and I had discussed. He wanted an external cum shot, I wanted to get my cum inside Dawson, so I promised him I'd do both... So I came on the outside of his hole, and then pushed it in. When Max was editing the footage he first sent me the pic above, then I told him the one I really wanted was the one with my cum covered cock going in and out of Dawson's hole (below). I called it "the money shot", and once Max did a still of it, he saw my point... That's what it's all about - a cum filled hole.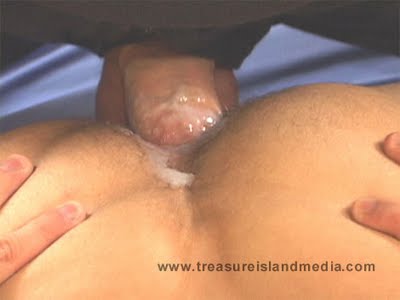 I really wish more of the tops had been as careful as I was about getting cum in Dawson, but it seems they really didn't care where their loads wound up. To me the worst scene in the video was after the big gangbang in the sling when there's a shot of cum all over the floor... An no one even licked it up - it just lay there being wasted. When I mentioned this to Max afterwards he was feeling really sensitive and said "Everyone's a critic..." and that was the last we said to each other for a number of months. I don't think he understood that I thought it was an incredible video.
One thing (or should I say, another thing) I should have done is gone down and felched out my own cum and shared it with Dawson. As it was he layed down and scooped it out of his hole and licked his fingers clean. Then they shot me tucking my dick into my pants and leaving (the order is reversed in the video).
So, how was Dawson's hole? Not particularly tight... But I knew that going in (could tell by the pics of his hole), and you wouldn't expect a guy who gets 50+? loads in a weekend to be tight (what he got that weekend including the loads he took in the backroom at the Black Party and at a sex club). But I gotta say - his body was incredible - tight and hard... He was a really good bottom - it's too bad I was so nervous - it would have been fun to have him sit on my face and feed me some of the 5 loads he had already gotten, or to swtich up a bit - maybe put him on his belly and pound away at his ass.
Afterwards Max was wonderful. He edited the video so very little of my face could be seen - even sent me a shot of the most my face could be seen to see if it was OK with me.
At one point he asked whether he could put my e-mail address (which at the time was rawtop@rawtop.com) on screen instead of just rawTOP. I thought long and hard about that one and finally said yes. I was still convinced I was going to breakup with my bf... But then, as you might expect, my bf and I had a huge arguement, everything came out, and... we didn't break up. At this point I started getting pretty worried. My relationship was shaky to say the least and having my e-mail address on a gangbang porn video might have pushed it over the edge. I contacted Max, but the video had already gone to be mastered. But then a week or so later he contacted me and said there was a problem with the mastering process and he had to go in and fix something so at that time he changed my attribution from rawTOP@rawtop.com to just rawTOP. It really was the best back then, but now I sorta wish my e-mail address could have stayed in there.
And then it was released and became a truly ground breaking video... True, all the tops weren't "hot" in the stereotypical sense - that bothered me at first but over time I realized that the inclusion of average guys is what has really created a bit of a cult following. The fact of the matter is that gangbang bottoms don't discriminate - they want the load no matter what the top looks like. So average guys saw themselves as part of the scene and as a result a much larger group is inspired to participate in giving, getting and swapping loads.
But it's ironic that part of the reason why I didn't take off my clothes was because I was self-conscious about my body, but I looked better at that point than a lot of the other tops. The lesson is to just be confident and go with what you've got...
All in all, I'm really glad I did the video. I'm happy that I participated in something that inspired so many people to go out and be the uninhibited pigs they want to be... But despite the fact that lots of people have seen the video, the vast majority of my friends still don't know it was me - and that's good too. Part of me wants to do another one, but we'll have to see about that...
If you want to watch 20 Load Weekend there are two options... Buy it from Treasure Island Media (or another store), or watch it on Video On Demand. Which option you choose depends on whether you want instant gratification or want to savor it for a long time to come.